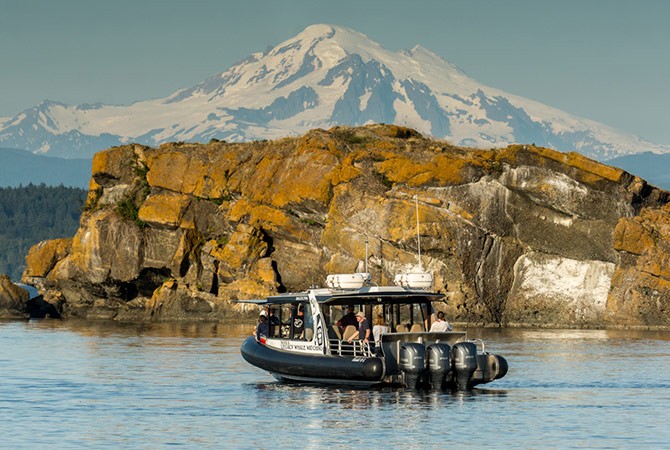 Small Group Whale Watching & Wildlife Tours for Couples, Families & Travelers
From the moment you step aboard our custom-built luxury vessel you will experience the whales, wildlife, and majestic scenery of the San Juan Islands at an intimate level you'll find only with us.
The San Juan Islands' #1-Rated Whale Watching Tour
Maintaining a passenger-centered approach, we are committed to you having the best whale watching experience possible. We prioritize personal interaction and go the distance to create truly profound moments among the whales, pinnipeds, sea birds, eagles and madrone trees that make the Salish Sea so special.
Find the Tour That's Perfect for You
We operate year-round and typically offer multiple departure times daily.
Please contact us for specific times and availability, particularly if you are looking for a tour in the next few days. You can also check our online booking page for availability and to make reservations independently. Please note that we may have availability beyond what is shown on the online booking page, so feel free to phone or email us. We are always happy to accommodate your itinerary and requests however possible.
We offer tours of varying lengths to suit your desired experience. Private charters are also available and can be tailored to your unique interests and itinerary..
Our rates include all fees except sales tax. We do include a conservation contribution we make on your behalf.
Our tour rates vary based on the different experiences we offer. Whether you're joining us for a private charter, a half-day tour ($199) or an epic all day adventure ($299), we look forward to sharing this unique and special place with you.
A Comprehensive, Whole-Ecosystem Approach
Our tours take a whole ecosystem approach in hopes of sharing as much insight about this entire, special place as possible. We strive for comprehensive and unique experiences on every tour, and every tour is truly unique!
With such a dynamic environment and marine life that is in motion 24 hours a day, every tour is special and different from the previous tour and from the next.
Small Groups On Every Tour
All of our whale watching & wildlife tours are small group experiences. Truly small. You will never be more than one of 16 guests and depending on the time of year, tours typically range between 6-12 guests at a time.
We prefer it this way, as it allows us to better serve your individual interests and feel it provides a more intimate experience with wildlife. Focusing on small groups also means there is no competition for the best view.
If you are looking for something even more intimate and personalized we are also happy to customize a private charter just for your group.
San Juan Island, the Best Departure Location
San Juan Island
is located in the heart of the Salish Sea, between Seattle, Vancouver and Victoria, BC, providing central access to multiple species of orca whales, baleen whales and abundant wildlife as they travel the inland waters. This often means you spend more time with whales and wildlife and less time in transit. We offer two convenient departure locations on the island for easy access if you are staying on the west side, close to town, or just coming for the day.
A Passionate & Knowledgeable Crew
Your tour is hosted by a knowledgeable and personable crew of marine naturalists. We care about who you are and what's brought you here.
In order to provide you with the exceptional experience you deserve, please let us know if there's anything we should know about your visit and interests that might help us enrich your time here.
We are dedicated to helping make the most out of your time on the water and your visit to the island.
New Custom-Designed Ecotour Boats
Your tour will be on board the newest and most comfortable vessels from San Juan Island. You'll enjoy luxury seating and a cabin for comfort in all conditions. There is excellent viewing from the outdoor bow and stern viewing decks, as well as unparalleled indoor visibility through the large cabin windows.
You are never seat-bound, and can move freely between the cabin and all viewing areas. There's plenty of elbow room and no competition for prime viewing space. Our boats also have a head, or marine bathroom, for your convenience.
Extras On Board to Enhance Your Experience
You'll have most everything you need on board. To enhance your experience, we have quality binoculars for your use, and hydrophones in the event we are with animals that are audible underwater.
You are welcome to bring a backpack, snacks and additional items you may wish to bring along. As with most outdoor activities in the Pacific Northwest, we recommend bringing sunglasses, water and dressing in extra layers.
Your tour will have a combination of location, range and expertise needed to get you to whale and wildlife hot spots. We pride ourselves on going the distance for you.

In the event whales are found outside of the area, we have a reputation for getting you there and have often seen whales when other local companies have not. We go further geographically and we prioritize your seeing whales over our personal time, dinner dates, fuel burn or our expenses.
Your experience comes first. Always.
Our Boats Are Custom Designed for Whale Watching, Wildlife & Photography Tours
Journey aboard our custom-built luxury vessels in a small group of no more than 12-16 guests, or charter the entire boat and let us help you design the most personal and intimate experience possible.
Each of our three vessels has been custom designed and purpose built for intimate small group tours and for the specific environment we explore. We feel the quality and comfort of the boat influences the quality of our experience on the water. Details, big and small, are important.
Large custom windows surrounding a cabin allow for an immersive experience, truly unobstructed viewing and comfort in all conditions.
There is easy access from the bow to the cabin and back stern deck, and you are never seat-bound. With few passengers and ample space to move about, this means optimal viewing for every guest on board – every seat is the best seat! This also makes our boats ideal for our guests interested in photography as well as custom photography tours.
Your safety and enjoyment are of great importance to us. Our boats are inspected regularly and have state of the art safety systems in place.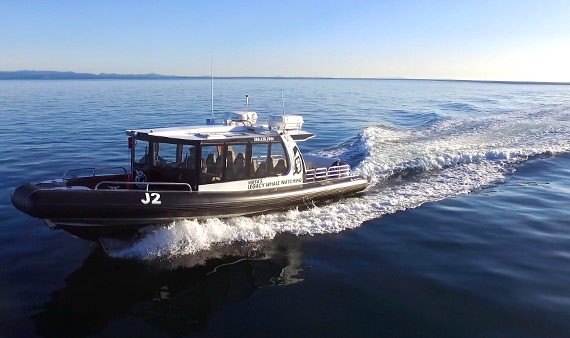 J1 and J2, named in honor of two iconic Southern Resident killer whales, are our newest vessels.
They are luxurious and smooth riding. Tours on J1 and J2 accommodate small groups of no more than 12-16 passengers or fewer per tour. In addition to regularly scheduled tours, these vessels are also available for private charters and photography tours.6
Swift, sleek, safe and stable, T2 is our high-performance day cruiser named after an iconic Bigg's killer whale.
It comfortably accommodates up to six passengers making it an ideal choice for couples, family groups, photographers and solo travelers. T2 offers an incredibly fun and unique, close-to-the-water viewing experience with ample space on the bow and stern. The boat has a head, or marine bathroom, for your convenience.
Convenient Departure Locations from Downtown Friday Harbor & the West Side of San Juan Island
Our tours depart from two convenient locations: downtown Friday Harbor within walking distance of the Washington State Ferry landing and 
Snug Harbor Resort
marina on the west side of San Juan Island. Both locations are excellent for their geographic range and proximity to whale and wildlife hot spots.
Responsible Whale Watching & Wildlife Viewing
As a company steeped in conservation values, we are committed to operating ethically around marine mammals and in our waters with the lightest footprint possible. In addition to federal and state marine mammal protection regulations, as a member of the Pacific Whale Watch Association, we adhere to the most progressive, science-based whale watching guidelines on the planet.
In addition to providing an educational and conservation minded experience on the water, we also serve as role models for recreational and other boaters on the water for best practices around whales and wildlife. We work closely with Department of Fish and Wildlife enforcement officers, as well as the Soundwatch Boater Education Program to help encourage other boaters to operate respectfully in the presence of whales.